Ball Valve DBV 400
Warex Ball Valves are characterized by the use of fewer components and space-saving elements, by a sensible modular conception and by easy operation. The free cylindrical passage reduces flow resistance to a minimum and the bearings on both sides of the ball ensure a constant low switching moment over the entire range of pressure.
Diameters 50 to 100 available in all material combinations
Diameters 125 and 150 not available in material combination 5
Design "PTFE / chambered special" with self-sealing system for permanent tightness of the valve.
Particularly suitable for liquids such as mineral oils. Standard O-rings of FPM, price reduction for NBR sealing
Design "PTFE / O-ring sprung" with a robust sealing system that was developed specifically for use
with powdered and granular materials.
Design "Stainless Steel / O-ring sprung" with metallic sealing system for use with abrasive
media in combination with high durability
Standard version with hand lever, Type "SO" prepared for automation
Design "FA" with aerodynamically shaped nonclogging outlet flange for use with the media,
which tend to clog easily.
Special versions regarding material and design are available on request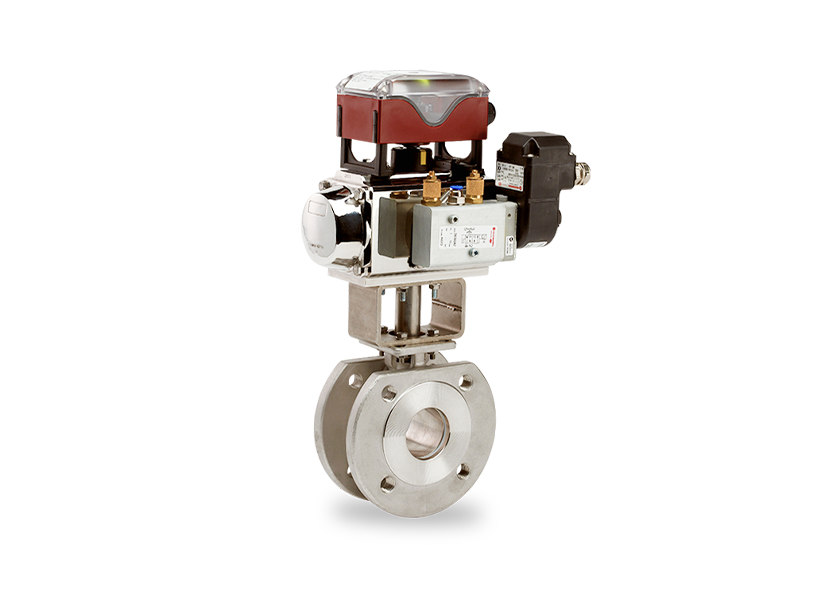 Compact Ball Valve with flange connection, full bore up to DN 100,
from DN 125 with reduced bore, standard in anti static design.
Range of Nominal Widths: DN 15 – DN 200
Operating Temperature: – 10°C to + 200°C *
Differential Pressure: up to 16 bar *
sealing: PTFE / FPM-O-Rings
body: WCB or stainless steel 1.4408
ball: stainless steel 1.4401
* Operational limitations depend on nominal width, temperature and composite materials. Crucial are the parameters set in the confirmation.
SOLIDS EASYFAIRS Dortmund
16. – 17.06.2021